Success Stories
Tavua Farmers Cooperative Association Ltd
The Co-operative is located in the heart of Tavua Town and was initially registered as consumer co-operative retailing groceries. Later the members decided to lease out the building space.
Unfortunately, in 1997 the building was destroyed in a fire. The Co-operative rebuilt the shops with the funds from insurance and loans from Westpac Banking Corporation.
Today the building houses reputable tenants such as Westpac, Hydroulink Hose and Tavua Seafood Wine And Dine Restaurant. The top floor has been rented out for residential purpose.The current members are now reaping the benefits in the form of dividends through the handwork of their ancestors.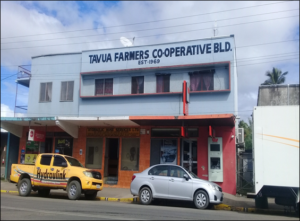 Building complex for Tavua Farmers Co-operative Limited rented out to Westpac, Hydroulink Hose Service Ltd and Tavua Seafood Wine and Dine Restaurant.
Lauwaki Women's Co-operative Ltd
Lauwaki Women's Co-operative Limited was registered on 1 December 1972 as a Consumer Co-operative. It consist of 106 women members.
The Co-operative has been in operation since inception and is identified as one of the model co-operatives in the Western Division. The Co-operative is fully compliant with the co-operative laws.
The Co-operative shop retails goods to its members at a reasonable price. The Co-operative's cash flow has been fluctuating for the past years yet it has recorded a turnover of $175,367.06 in 2018.
The Board is well organised and manages its affairs very well. All records are well monitored and proper internal control measures are enforced.
Lauwaki Women's Co-operative Limited has created employment and currently employs four members.
The Co-operative has diversified into internet cafe business. It has utilized an empty space in the shop for this business.  The internet café assists the children of Lauwaki in their school projects and tasks.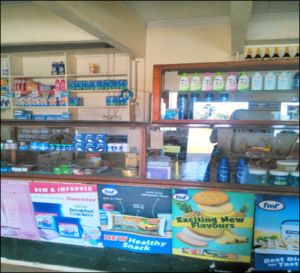 Retail store for Lauwaki Womens Co-operative Limited in Ba.
Koronivia Vegetable Farmers' Co-operative Ltd
The Koronivia Vegetable Farmers' Co-operative Limited was formed in 2010 and was registered on 6 July 2011. The Co-operative comprises of 14 commercial and semi-commercial vegetable farmers.
The Co-operative owns a tractor with 4 implements, which is used to prepare the members' farms at a reasonable rate.
The Co-operative is very active and members meet every month to share knowledge, skills and discuss problems and the way forward for their farming.
The Koronivia Vegetable Farmers' Co-operative Limited is currently working as per its 5 year business plan. Future plans include exporting products overseas and implementing irrigation systems in the farms.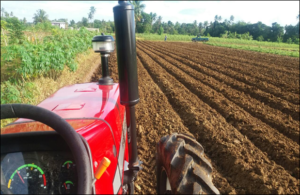 Tractor funded by IHRDP for Koronivia Vegetable Farmers Co-operative Limited to use for farming.