Standards
Role of Standards Unit
Our Role

We develop, review Fijian standards and also adopt international/regional standards as Fijian as per countries need. We also do effective enforcement few mandatory standards and the products that are declared as dangerous goods.

Governance

The standard unit was established under the Trade Standards and Quality Control Act 1992. This Act empowers the preparation and promotion of standards in relation to goods, services, processes and practices used and produced locally. This Act gives responsibility to the Standard Unit to develop and promote standards for products and services for the protection of the health and safety of consumers and environment as well as for industrial development, in order to promote the enhancement of the economy of Fiji.

International Affiliations

The Department of National Trade Measurement & Standards has a membership with the following international/regional organizations:
Full member – International Organization for Standardization (ISO)

Affiliate – International Electrochemical Commission (IEC)

Full member- Pacific Area Standards Congress (PASC)
DNTMS signed a Memorandum of Understanding (MoU) with Standards Australia International in 1998, which gave Fiji a platform from which it approached standardization issues. The MoU gave the Unit the opportunity to adopt and modify Australian Standards as Fiji Standards. 
Standards Catalogue
The Department of National Trade Measurement & Standards (DNTMS) being the National Standards Body maintains Fijian Standards, International/Regional Standards and associated publications, all available in a variety of formats through an advance online subscription services with the assistance of Standard Australia and ISO.
For further information and clarification on the above, please call +679 3305411
Standard Development
What is a Standard?

Standards are published documents setting out specifications and procedures. They are designed to ensure products, services and systems are safe, reliable and consistent. They are based on sound industrial, scientific and consumer experience and are regularly reviewed to ensure they keep pace with new technologies.

There three categories of Standards:
International Standards – These are developed by ISO, IEC, and ITU for countries to adopt for national use.
Regional Standards – These are prepared by a specific region, such as the European Union's EN standards, or Australian/New Zealand standards.
National Standards – These are developed either by a national standards body (like Department of National Trade Measurement and Standards).
Standard Development Process
Standard Development Process

The standards development process is based on three internationally recognized principles:

Openness and transparency

Consensus

Balance of representation
The standard development process takes minimum 12 months to publish the standard. The national standards are reviewed after every 5 years. The systematic processes involved for development/review of standards that need to be followed are shown below.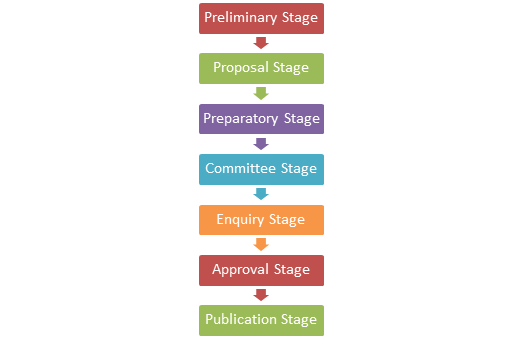 Benefits of Standards
Standards ensure the quality and consistency of products and services, giving businesses and consumers greater peace of mind. They also benefit the economy, improve health and safety, protect our natural resources, and improve our quality of life. The key benefits of our standards:
Enhance confidence: Businesses and consumers can feel confident that the products and services they develop and/or use are safe, reliable and fit-for-purpose.

Increase market access: In the eyes of consumers, products that comply with Fijian Standards offer added value. International Standards give Fijian exporters an instant competitive advantage when moving into overseas markets.

Reduce barriers to international trade: Regardless of where a product is made, standards mean it can be sold and used around the globe. Opening new doors to international trade, standards help Fijian businesses compete globally and to a wider market.
Mandatory Standards
DNTMS publishes voluntary standards. However, when standards are referenced under Fijian law or legislation then these standards become mandatory. Some of the mandatory standards are:
Trade Standards (Bottled Water Standard) Order 2004 with amendment 1.

Trade Standards (Fuel Standard) Order 2007 with amendment 1.

Trade Standard (Fuel Standards) National Biodiesel and Ethanol Fuel Standards (Amendment) Order 2011ds (Battery Standard) Order 2013

Trade Standards (Safety Information Standard for Hot Water Bottle) Order 2011

Trade Standard (Used Motor Vehicle Import Certification Standard) Order 2013 is enforced by Fiji Revenue and Customs Services

Trade Standard (Shopgoods Fireworks Labeling Standard) Order 2005

Trade Standards (Battery Standards) Order 2013

FS AS 3566 – Screws Self-Drilling Screws for building and construction industries

FS AS 1562 –Design and Installation of sheet roof and wall cladding

Trade Standards (Household Electric Refrigerating Appliances) Order 2007 is enforced by the Department of Energy.
Frequently Asked Questions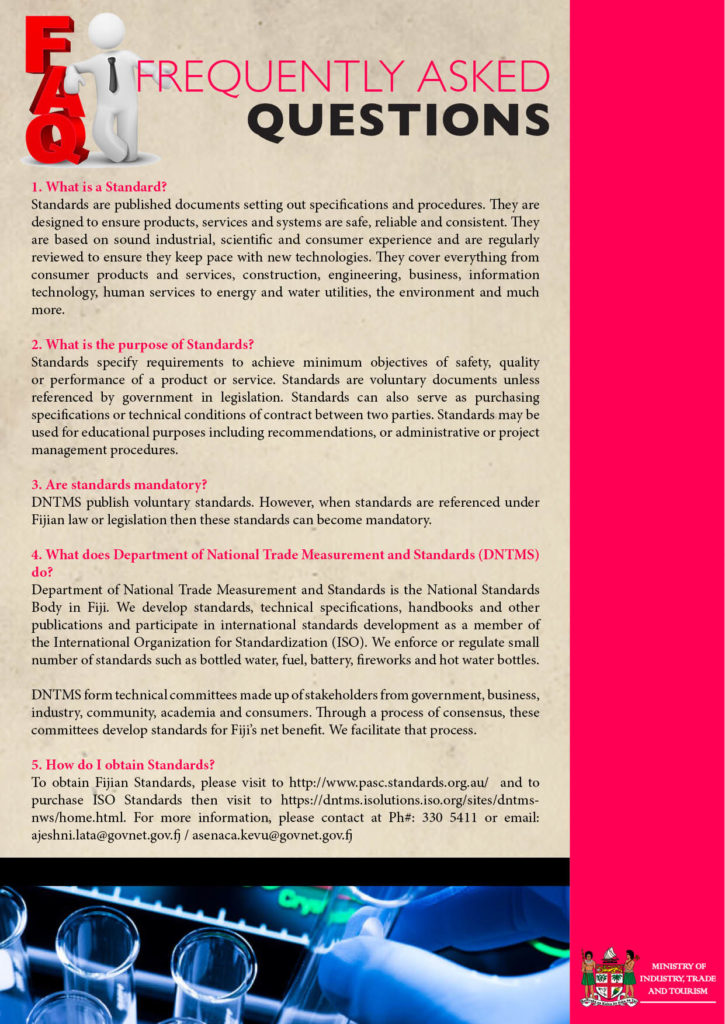 ISO Webstore