National Export Strategy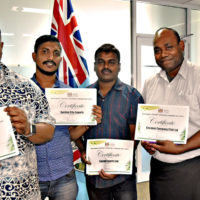 The National Export Strategy (NES) is a Government Grant facility, which aims to assist existing and new exporters in achieving competitiveness, value addition, export diversification and growth in targeted markets overseas. The government will provide this assistance in sectors which have growth potentials, such as Forestry, Fisheries, Agro-business and Manufacturing.
The Fijian Government will continue to provide assistance to Fijian exporters to overcome barriers to trade, maximize productions, diversify products and secure new markets. This will contribute to increased exports, improved balance of payment position and foreign exchange earnings for the economy.
Companies on the verge of exporting that require assistance for product development can apply for this grant. Small and Medium Enterprises (SMEs) that are in the export business or on the verge of exporting are encouraged to consider applying for the grant. Eligibility for assistance will be based on the set criteria for this Scheme.