Roadside Stalls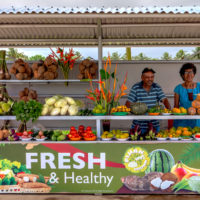 The Fijian Government, through the Ministry of Industry, Trade and Tourism, is striving to improve the quality and standards of roadside stalls, which falls outside municipal boundaries. Majority of these stalls are old and makeshift, hence, are susceptible to natural disasters, such as cyclones and flooding.
Through the Fijian Government's Roadside Stalls project, the Ministry is working towards having standardised, presentable and more hygienic stalls around Fiji.
As stipulated in the 5-Year and 20-Year National Development Plan, the Fijian Government will continue to provide quality and standardised roadside stalls to vendors who operate in areas outside of municipal boundaries, in Viti Levu and Vanua Levu and who meet the specified criteria.