Special Economic Zone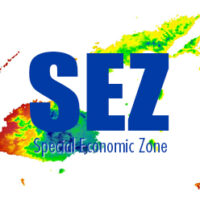 Special Economic Zones (SEZs) are modern economic zones that have in place all the required supporting infrastructure and utilities to facilitate industrial development. In order to make these Zones highly attractive, tailor-made incentives, such as tax breaks, investment allowances and subsidies are provided to investors. SEZs are established to promote exports and attract investments by concentrating resources in specific geographical areas.
The concept of an SEZ is not new to Fiji, as there are dedicated economic zones in the form of the Kalabu Tax Free Zone (KTFZ), Savusavu Industrial Zone and Tax-Free Regions. KTFZ is a very good example of an economic zone that has led to economic growth and development of the designated area.
As per the 5-Year and 20-Year National Development Plan, the Fijian Government has made a strong commitment to develop Fiji as a manufacturing hub of the Pacific. This includes the development of SEZs built on the "plug and play" concept, with tailor made incentives to attract investments in the services and manufacturing industries. This would in turn lead to valuable employment creation for locals, an increase in export earnings, contribute to technology and skills transfer and expand the economic base of Fiji.
Thus, the Fijian Government has embarked on this SEZ project in Lautoka in the Western Division, where medium to large-scale Information and Communication Technology (ICT), manufacturing, warehousing and logistics businesses will be targeted to set up in the Zone.
A multi-story large-scale shopping complex is envisaged as well, that will accommodate shopping as well as activity based operations which will target the interests of international visitors in particular.
It is envisaged that services at the Zone will complement the developments arising from the tourism sector, and the SEZ is expected to generate employment opportunities and sustainable livelihoods for Fijians.
The Ministry of Industry, Trade and Tourism has entered into a MoU with the Fiji National Provident Fund (FNPF) for partnership on the development of a SEZ in Lautoka. This is to have the FNPF come on board as the primary developer of the Zone project, to provide management services of the development and construction process of the Zone.
This MoU will strengthen the collaboration between the Ministry and FNPF, to develop the SEZ and ensure its continued sustainability and help stimulate economic progress in the Western division. The Ministry and FNPF acknowledge that the Project will bring tangible benefits to the Nadi-Lautoka corridor, its surrounding areas and ultimately to the country. It is their shared vision that the Project will be of national significance.