Micro and Small Business Grant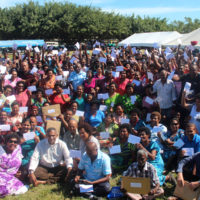 The Micro Small Business Grant (MSBG) Scheme was launched by the Hon. Prime Minister on 7 July 2015. The Scheme is an initiative designed to provide grants for start-up and assistance to new and existing micro and small businesses, of up to $1,000.
The grant is targeted at individuals who have particular skill sets, such as, handicrafts, fruit and vegetable sellers, farming and handicrafts, to name a few. Beneficiaries of this scheme will be able to use the funds to overcome barriers in starting up new businesses or to boost their existing businesses. It is also a platform for businesses to secure funding from mainstream financial institutions, like the Fiji Development Bank (FDB) and other Commercial Banks.
The grants in form of cheques are authorized on the name of the suppliers from where the recipients are planning to source their items such as tools, building and fencing materials, farm equipment's, purchase of goods or any other supplies.The MSBG Facility is part of the Fijian Government's overall commitment to reducing poverty through capital injection into micro and small businesses and business and entrepreneurial skills development.