Director IHRDP commissions Kasavu Co-operative Store
14 Nov, 2019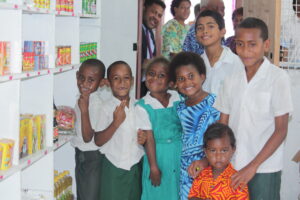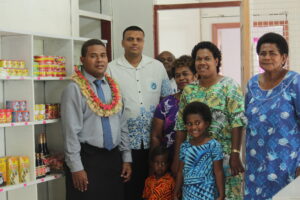 The Kasavu Co-operative Store was commissioned today by the Director Integrated Human Resource Development Programme (IHRDP), Iosefo Koroidimuri, on behalf of the Ministry of Industry, Trade and Tourism (Ministry).
While officiating at the commissioning of the store, Director said that the store will generate income and benefit members of the community in uplifting their standard of living and hoped the Kasavu store would be an inspiration to other people in obtaining knowledge on business matters.
"This is an example of the Fijian Government's continued investment, complemented by the support of the private sector and members of the community. I would like to remind members of the Kasavu community, that this store is your source of income and you will need to take full ownership of the project," said Mr Koroidimuri.
He added that to ensure that the Kasavu Co-operative Store continued to grow and expand, the Fijian Government will continue to provide business advisory, mentoring and various training exercises.
The Kasavu Co-operative Store was funded by the Ministry through the IHRDP, under the umbrella of MSME Fiji. The value of assistance given was approximately $30,000, whilst the community contributed groceries for the store and sweat equity in the construction of the building.
The project was fully implemented in November this year. In terms of capacity building, the Ministry conducted trainings including a 'Start Your Business' training in September of this year.
The store will employ 2 Fijians, which would have a direct impact on the lives of 8 other villagers. With the supply of groceries and other merchandise, the village of Kasavu and other nearby settlements will benefit greatly from this project.
Commissioner Central's Office, Ministry of Health and Medical Services, Provincial Council Naitasiri and AWQAF Fiji are key stakeholders that contributed towards the project.
End.