Ministry hands over boat to Tuvuca Community
14 Nov, 2019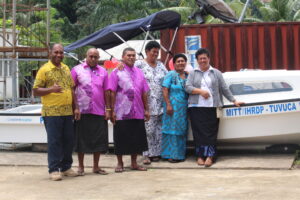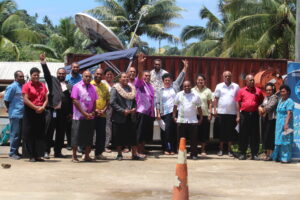 The Ministry of Industry, Trade and Tourism, through the Integrated Human Resources Development Programme (IHRDP) under MSME Fiji, yesterday handed over a boat to the women of Tuvuca Island from Vanuabalavu, Lau.
The half cabin fiber glass boat, valued at more than $20,000 would greatly assist in transporting the people of Tuvuca, given that transportation was a key challenge on the island. The boat will also assist in transporting mats and handicraft for the 30 women on the island to sell.
Director Iosefo Koroidimuri said that the handover was a new beginning for the community and encouraged stronger collaboration and partnership amongst the villagers, for the community to prosper.
"The Fijian Government will continue to embrace community empowerment through provision of appropriate assistance to micro, small and medium enterprises and the identification of their alternative source of livelihood such as handicrafts," highlighted Mr Koroidimuri.
He further added that such initiatives empower women in the community to sustainably take ownership of income generating activities and improve the livelihoods of people in rural and maritime islands.
Tuvuca Island representative, Ledua Tupou, said the villagers were grateful to the Fijian Government for the timely assistance.
"The community of the Tuvuca Island are thankful to the Government for the asset given to the women of Tuvuca. This boat will help generate income and at the same time, ease transportation problems," said Mr Tupou.
With the aim to enhance business and employment opportunities for women on the island, the boat will be hired commercially and used for fishing.
End.